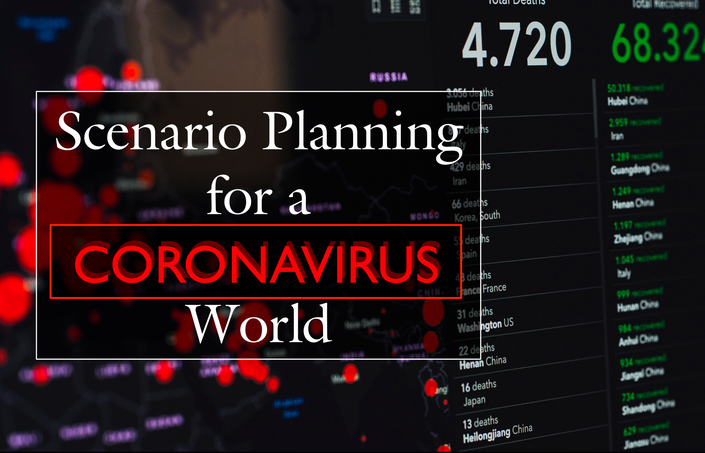 Scenario Planning for a Coronavirus World
Learn a technique for visualizing how the Covid crisis — and the "new normal" that will follow it — could change your landscape
–
Learn how to foresee future change, in one of the most dynamic and disruptive periods we will ever live through
Now, in the 4th quarter of 2021, it doesn't matter what business you're in, Covid-19 has been changing your operating landscape for more than a year – and it will continue to change your business environment, because even when the virus is finally beaten and the crisis phase is over, we will find ourselves in a post-Covid "New Normal" terrain with even more changes to adapt to.
Short and sweet: In the next year or two, we are all facing the prospect of a lot of change – profound, probably permanent change. We're not going back to the way things were in 2019. But the good news is that it's not all threats and challenges; there will be lots of opportunities, too – if your eyes are open and you're ready to grasp them.

To prepare your organization for what's ahead, you need to get a handle – NOW! – on how different your specific operating environment might be, perhaps just a few months from now. Scenario planning is an amazing, highly structured method to foresee (and better: to understand) how this future terrain could realistically turn out for you. It gives you a practical approach for exploring how alternative futures could emerge around you, each with the potential to affect your business in a different way.

As we all try to navigate the Covid and post-Covid situation, it's imperative that we think ahead and anticipate the changes that are possibly awaiting us. That's what this course is all about!
In just one hour of intense instruction, Woody Wade, a published author and world-class expert on this methodology, leads you step-by-step through the process of generating plausible future scenarios for your organization's specific situation. These allow you to foresee how your landscape might realistically evolve while the crisis is still going on, and then – very important for your longer-term success – how scenarios for your post-pandemic landscape could become your new, permanent business terrain. This "New Normal" is already taking shape, and will potentially influence your business for years to come.
NEW! The independent rating agency CourseMarks has reviewed this e-course and given it a score of 8.9 out of a possible 10 points - a real affirmation of its value to you as a decision maker.

Register now for this eye-opening opportunity to learn right away about a fascinating technique that will be a valuable addition to your toolkit, not only as you navigate the last stages of the Covid world, but as we enter the post-Covid era and indeed, throughout your career - because after all, change will always be with us!
Your Instructor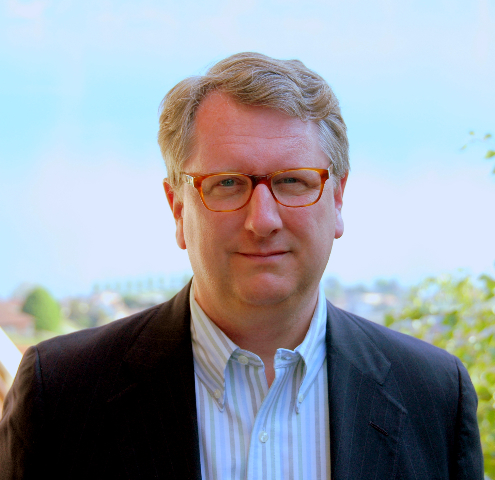 Over the last ten years, Woody Wade has designed and facilitated scenario planning workshops across Europe, the Middle East, Asia, and the Americas, for clients in sectors ranging from oil exploration, financial services, and hospitality to higher education, charitable foundations, and NGOs. Considered one of the world's leading experts on scenario planning, he is also a frequent keynote speaker at corporate events, strongly advocating for managers to use a scenario approach in order to "think differently about the future".
Woody is the author of the book "Scenario Planning: A Field Guide to the Future", published by Wiley, the largest business book publisher in the US. This practical handbook quickly became a bestselling reference work on scenario generation and was published in a number of foreign-language editions as well.
Here are a few additional highlights from his background:
MBA from Harvard Business School.

Author of "See Your New Normal" (2021), a scenario planning guidebook for the post-pandemic era.

Executive Board member of the World Economic Forum, the foundation organizing the annual gathering of world leaders in Davos, Switzerland.

Director of Marketing at the Ecole hôtelière de Lausanne, the world's no. 1 ranked school of hospitality management.

Adjunct professor in Rochester Institute of Technology's master's degree program in Future Foresight, delivered on their Dubai campus.

Author of "Hotel Yearbook 2036", a fictitious and sometimes whimsical look at the hotel industry - and the world - 20 years in the future.

Scenario planning experience with clients in over 30 countries.
Course Curriculum
Introduction
Available in days
days after you enroll
Scenario Planning
Available in days
days after you enroll
Applying a scenario approach in your organization
Available in days
days after you enroll
Frequently Asked Questions
What is scenario planning?
Scenario planning is a valuable, and very practically oriented, foresight technique that allows you to visualize different ways your organization's future landscape might develop. With its structured approach, scenario planning helps you foresee how to identify business opportunities (and challenges!) that would be likely to arise in different scenarios that could emerge as time goes by.
Why should I take this course?
You can apply the scenario planning methodology I will teach you to almost any organization that will be facing a changing environment over time. It's a useful approach for thinking about how you may need to adapt what you do, and how you do it. Now, in the Coronavirus era, we have seen how fast things can change – and it's safe to assume that more change is on the way. So especially now, you should be trying to foresee the changes that could be awaiting you and your operations, anticipate how you might be affected, and develop options for responding to the different ways you might find your future landscape unfolding. This is what scenario planning is all about - and why it should absolutely be part of your managerial toolkit!
How much time does the course take?
The course is made up of five video lessons, about one hour in total. So it's intensive, and doesn't require a large time investment on your part. Your access to the course starts with registration, and never ends. So you can work at your own pace - finish quickly or take your time. And you can revisit videos you have already watched any time you want. It's all up to you.
What if I am unhappy with the course?
If you're not satisfied, contact us within 30 days for a full refund.
What participants have said about other online courses

on scenario planning conducted by Woody Wade:
"Great crash course for those who are beginners in scenario planning like myself! And this is definitely the right time to consider this powerful tool!"
- Mohsin
---
"Well presented. Thorough and extremely useful content."
- Tammie

---
"Tons of great and relevant info packed into a short one hour course. Gives me much to think about, but it provides me with a very useful and usable framework for my own use. If scenario planning has ever been overlooked in the past, our current scenario necessitates that it be given serious consideration by everyone."
- Jay

---
"It's a very professional and to-the-point course. Will help everyone during any crisis."
- Naveen
---
"Great course and also very easy to follow. Well taught."

- Talemo

---
"Simple but insightful, and grabs your attention right through. The content is very adaptable."
- Rosie
---
"Very clear and concise and easy to learn."

- Yu Hwa